A well-maintained home electrical system is important to ensure comfort and safety. Most appliances in every house run on electricity, which is why it is important to ensure that the wiring and electrical system is up to the mark. If you face any trouble in your house's electrical system, EaseFix will help you find professional electricians in Salford!
Who is an electrician?
An electrician is an expert who has the knowledge, education, and tools to provide installation, maintenance, and repair services to guarantee that the electrical system of a commercial or residential building is working properly!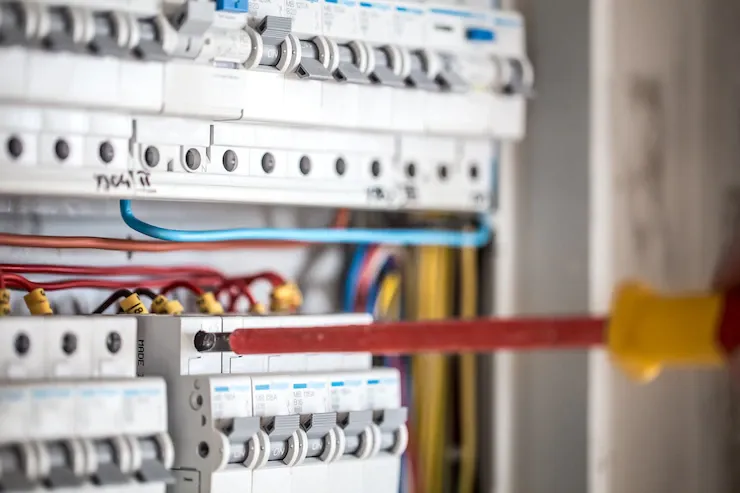 Why hire an electrician?
The electrical system is something that should be taken care of by a professional electrician, and it is volatile and dangerous and can cause electrical fires or electrocution. This is why for solving every electricity-related issue, hire a professional electrician!
Electricians also ensure that the wiring of your home is up to code. If you need any repair or service related to your home's electrical system, hire a professional electrician through EaseFix!
What services do electricians provide?
Here are some of the services that trained and licensed electricians can provide at residential and commercial properties:
Electrical inspections
Scheduling a yearly electrical system inspection is as important as scheduling an annual physical with your doctor! To ensure safety, one of the most standard services provided by electricians is electrical inspection.
An electrical inspection may help you to find different problems, abnormalities, and damages in the wiring and electrical system of the property! When electrical problems are detected early, they can be fixed easily and help to avoid problems and high costs in the future!
Outdoor and indoor lighting
A well-lit interior and exterior can play an important role in the functionality and curb appeal of any residential or commercial property. Lighting systems, both external and internal, come with their own set of challenges. This is why instead of putting oneself at risk, it is better to get the help of a professional electrician.


Hire an expert electrician with the help of EaseFix, and be ensured that the job is done safely without sacrificing aesthetics. Professional electricians are equipped with the right tools that are required for easy and risk-free installation and repair of outdoor and indoor lighting.
Adding underfloor heating
Having an underfloor heating system installed for adding radiated heat to your indoors is a dream for many people! There are many benefits of installing such a system, as it provides warmth and reduces energy bills.
The wiring of this sort of system goes back and forth under the flooring, which is why it is complex and requires a professional electrician.
Installation of a security system
House security is very crucial. This is why many people install Access Control systems, alarms, and cameras to go full-on! Installation of such a security system requires a licensed electrician who helps to not only install but also test the whole system.

Light fixture and ceiling fan installation
Electricians also install and repair light fixtures and ceiling fans. People often repair or upgrade light fixtures and fans as they deteriorate with time deteriorates. To ensure everything is installed correctly, hire a licensed electrician who fits your budget!
Installation and repair of electrical appliances
Installation of modern appliances like EV chargers and aerial & satellite dishes isn't always as simple as unboxing and plugging it in! To install such appliances, expert electricians are needed! Use EaseFix to find a local electrician who can install new appliances and repair air conditioners, refrigerators, washers, and other electronic devices!
Rewiring
Wiring of the residential and commercial buildings should be in perfect condition as worn-out and overloaded systems may cause big issues! To ensure that your property's electrical system is strain-free and does not contain worn-out segments, hire a licensed electrician for rewiring services now!
Emergency electrical repairs
If you want any electrical thing repaired or replaced, get the job done by finding a professional electrician through EaseFix! Having electric problems dealt with by expert electricians can ensure that you won't have any other issues for a long period of time!
Wrap up!
Amateurs must not deal with the electrical system. EaseFix can help you to find a licensed and insured electrician who can ensure that all your home or business's electrical work is done properly! Electrical installation, rewiring, electrical repair, solar panel installation, electrical upgrades, whatever job you require, just post it on our platform and choose the bid that fits your budget!